Ceramic Investment and Sand Casting
AKRON Porcelain & Plastics Company has provided standard and custom-molded ceramic pouring cup designs, leachable cores, and gating tiles to commercial and aerospace segments for the industry since the early 1980's. Akron is a member in good standing of the Investment Casting Institute (ICI) and American Foundry Society (AFS).
AKRON'S formulations are designed to accommodate the thermal expansion of shell systems, mechanical loads at temperature, analysis of modulus or rupture, and certification of trace elements.
Pouring Cups and Basins
AKRON Porcelain & Plastics Company supplies over 30 standard, extended, and double cups and has the ability to help design custom cups and basins for you application. Pouring cups and basins can be provided in multiple clay bodies to accommodate pour temperatures up to 3250F.
Ceramic Pour Cup & Basin Standard List
Strainer Cores
AKRON Porcelain & Plastics Company provides several different standard and customs shapes and sizes of strainer cores to help regulate the flow of alloys. AKRON's customized Refractory materials are suitable for various metals up to 3250F.
Precision Ceramic Leachable Cores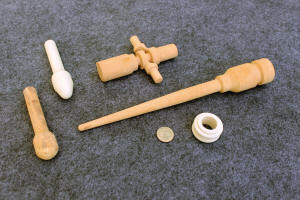 AKRON Porcelain & Plastics Company's advanced technology and experience with Ceramic Injection Molding capability has the following advantages:
Zircon and fused silica compatible
Small and large standard and custom shapes
Leachable ceramic formulation easily removed via a Kolene-based system
CAD design and engineering assistance
Affordable single and multiple cavity custom tooling with short lead-times
Bottom Fill Pour System
AKRON Porcelain & Plastics Company's engineering designed this unique concept to assist foundries on difficult parts with the following advantages:
Reduce pour turbulence and scrap
Multiple pours
Consistent fills achieved without modifying current shell and pouring procedures
Impurities are trapped above the pour, reducing defects and improving surface quality
1.8″ OD x 1.3″ ID Tube with lengths ranging from 14″ to 22″ (Place 1/2″ from shell bottom)
For optimal performance, pre-heat BFPS to 1800F
Available in Mullite, Cordierite, and Fused Silica
Bottom Fill Pour System Drawing
Gate Tubes
AKRON Porcelain & Plastics Company's thin wall gate tubes are exceptionally lightweight due to a 3/8″ wall thickness, thus reduced shipping expense and easier to handle. Tubes lengths are furnished in 1/2″ increments and longer than 18″ up to 40″ can be manufactured upon request.
Plain End Tube: Can be furnished with one or both ends angled.
Matching End Tube: Eliminate the use of sprue stick and guarantee that the effective diameter of the sprue and gating system is maintained.
Bent Tube: Replaces the horn gate for bottom poured castings.
Smashed End and Slotted Tube: Custom design to accommodate process.
Elbows, Tees, Crosses, and more…
Used with with the pouring basins and tubes to help regulate the flow into molds and improve casting quality.