Cable Rack Insulators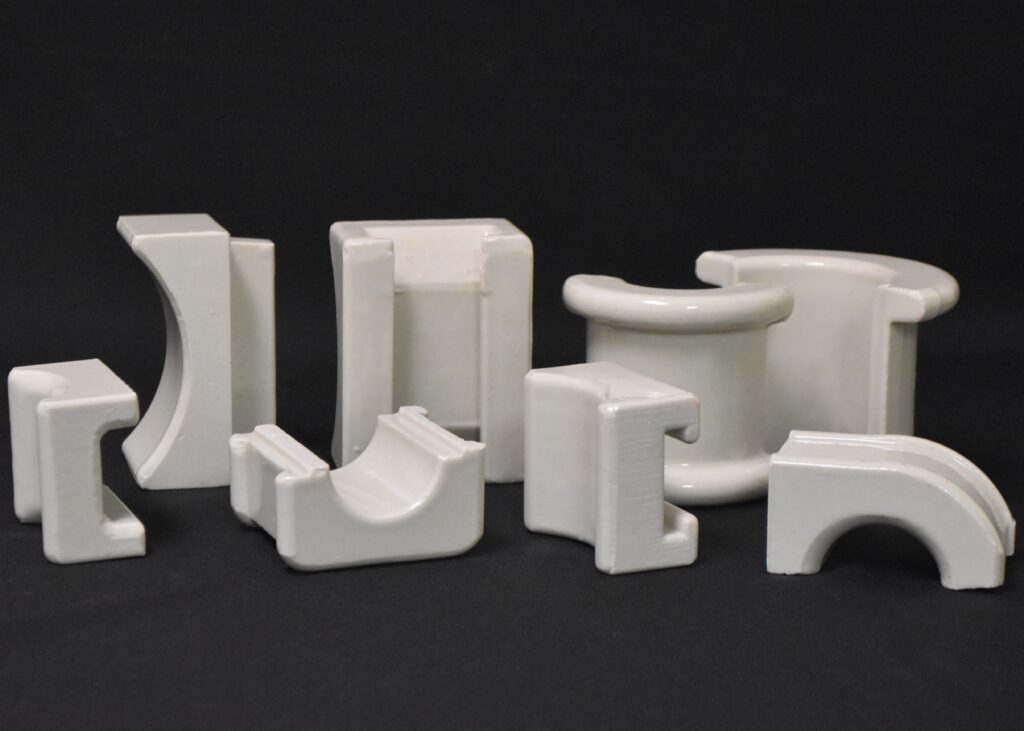 AKRON Porcelain & Plastics Company's Cable Rack porcelain insulators with supporting hardware are commonly employed for cable mounting and guide support in manholes, cable trenches or sub stations. The cable rack system minimizes cable tilling, swaying or drooping.
AKRON offers one of the most comprehensive lines of cable rack insulators with over 50 different models available. The porcelain cable rack insulators are designed to rest on a cable rack and have no sharp edges or corners and are highly resistant to chipping or breakage. There is a variety of galvanized steel mounting hardware including channel back, drilled and slotted supporting up to 4 insulators. Full 360-degree cable support insulators (APP stock No. 1211) can also be provided with a cable support-mounting bracket (not provided by AP&P).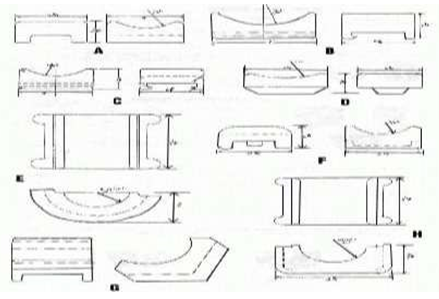 Standard Underground Cable Insulators are made of dry process porcelain with white glaze (blown glaze is available upon request). Dimension and sizing detail can be found on the list below.
AKRON encourages your inquiry for special designs and requirements, contact sales@akronporcelain.com today!
Underground Cable Rack Insulators
| | | | |
| --- | --- | --- | --- |
| Stock # | Size (W x L) (in.) | Radius (in.) | Type |
| 553 | 2-3/16 x 4 | 2-1/6 | B |
| 594 | 3-3/4 x 3-3/4 | 2-5/8 | A |
| 631 | 2-11/16 x 4-1/2 | 2-11/16 | D |
| 646 | 2-11/16 x 4-1/2 | 1-3/4 | D |
| 767 | 3-3/4 x 3-3/4 | 1-23/32 | F |
| 814 | 2-13/16 x 3 | 1-7/16 | C |
| 866 | 2-13/16 x 3 | 1-7/16 | B |
| 886 | 2-3/4 x 3 | 1-1/2 | A |
| 904 | 2-3/4 x 3 | 1-1/2 | C |
| 939 | 3 x 3-3/4 | 1-1/2 | A |
| 948 | 3 x 3-7/8 | 2-1/4 | C |
| 1046 | 2-5/8 x 4-1/2 | 2-5/8 | D |
| 1211 | 3-1/8 x 3-1/2 | 1 (PAIRS) | H |
| 1238 | 2-1/2 x 3-3/4 | 1-1/4 | C |
| 1239 | 3-3/4 x 3-3/4 | 2-1/2 | C |
| 1592 | 3-1/2 x 3-5/8 | 2-1/2 | A |
| 1688 | 2-3/4 x 3 | 3/4 (PAIRS) | E |
| 1689 | 3-3/16 x 3-5/8 | 3/4 (PAIRS) | E |
| 1690 | 3-3/4 x 4-11/16 | 1 (PAIRS) | E |
| 1691 | 3-3/4 x 4-11/16 | 1-1/4 (PAIRS) | E |
| 1692 | 4 x 5-11/32 | 1-1/2 (PAIRS) | E |
| 1844-3 | 3-15/16 x 5-1/4 | 1-5/16 (PAIRS) | E |
| | | | |
| --- | --- | --- | --- |
| Stock # | Size (W x L) (in.) | Radius (in.) | Type |
| 1844-4 | 3-15/16 x 5-1/4 | 1-3/8 (PAIRS) | E |
| 1844-5 | 3-15/16 x 5-1/4 | 1-7/16 (PAIRS) | E |
| 1844-6 | 3-15/16 x 5-1/4 | 1-1/2 (PAIRS) | E |
| 1845-3 | 2-15/16 x 3-3/8 | 5/8 (PAIRS) | E |
| 1845-4 | 2-15/16 x 3-3/8 | 11/16 (PAIRS) | E |
| 1845-5 | 2-15/16 x 3-3/8 | ¾ (PAIRS) | E |
| 1870-3 | 3-11/16 x 4-5/8 | 1-1/16 (PAIRS) | E |
| 1870-4 | 3-11/16 x 4-5/8 | 1-1/8 (PAIRS) | E |
| 1870-5 | 3-11/16 x 4-5/8 | 1-3/16 (PAIRS) | E |
| 1870-6 | 3-11/16 x 4-5/8 | 1-1/4 (PAIRS) | E |
| 1897-3 | 2-7/16 x 2-1/2 | 5/16 (PAIRS) | E |
| 1897-4 | 2-7/16 x 2-1/2 | 3/8 (PAIRS) | E |
| 1897-5 | 2-7/16 x 2-1/2 | 7/16 (PAIRS) | E |
| 1897-6 | 2-7/16 x 2-1/2 | 1/2 (PAIRS) | E |
| 1897-7 | 2-7/16 x 2-1/2 | 9/16 (PAIRS) | E |
| 1898-3 | 3-11/16 x 4 | 13/16 (PAIRS) | E |
| 1898-4 | 3-11/16 x 4 | 7/8 (PAIRS) | E |
| 1898-5 | 3-11/16 x 4 | 15/16 (PAIRS) | E |
| 1898-6 | 3-11/16 x 4 | 1 (PAIRS) | E |
| 1928 | 2-11/16 x 4-1/2 | 2-11/16 | D |
| 1937-4 | 1-3/4 x 1-7/8 | 3/16 (PAIRS) | E |
| 1937-5 | 1-3/4 x 1-7/8 | 1/4 (PAIRS) | E |
Industries Served
Electrical Distribution, Foundry, Major Appliance, Commercial Lighting, Water Filtration, Medical, Oil & Gas, Automotive